Suhi Suhi Village in Pangururan Sub-District, North Sumatra Province
---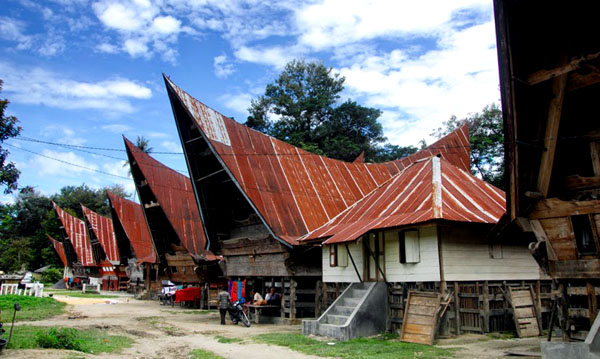 No one should overlook the beauty of Toba Lake. Apart from being a famous tourist spot in North Sumatra Province, it also offers interesting local traditions. In Samosir Island, visitors can find a unique settlement called Suhi Suhi Village. The location is between Pangururan Town and Tomok Port. That means it is quite reachable for everyone. So, what makes it popular among travelers? Mostly, tourists come to Lumban Suhi Suhi Toruan to meet Batak People and buy the famous local fabric called Ulos. They also want to enjoy the unspoiled nature of the village, which is suitable for relaxing.
The Nuance
The nuance in Suhi Suhi Village is similar to other settlements located in Samosir Island. It offers a stunning view of Toba Lake and majestic scenery of Pusuk Buhit Mountain. Not to mention it is surrounded by local traditional houses called "Jabu Bolon". Some women are seen there, creating Ulos (Batak's traditional fabric). Near to those houses, some local tombstones are also visible, emitting creepy nuance. With all these attractions, tourists should never forget to carry their camera. Also, it is recommended to come with a tour guide, as he becomes an important guide and interpreter during the vacation.
Exploring Suhi Suhi Village
The best attraction in Suhi Suhi Village is indeed its Ulos fabric. Both local and foreign tourists are interested in the beauty of such tradition textile, in fact. Batak People often use it as a shawl, actually. It has numerous designs and colors, representing different meanings or philosophies. As for tourists, they can either buy the product or simply witness the creation of such fabric. The locals would create Ulos either by a manual procedure or the loom. Either way, it is an interesting procession for tourists to enjoy. With villagers' permission, they can even take pictures during the making of Ulos.
In a nutshell, Suhi Suhi Village is a perfect vacation destination for those who want to learn more about Ulos fabric. Visitors can both obtain information and buy it directly from the makers. According to locals, there are 12 basic themes of it, including Sibolang, Lobu-Lobu, Ragidup, Runjat, and much more. Each of them has a distinct meaning, as well. Have no worries. The locals would explain them well to tourists. Also, their price is different from each other, so it is better to talk to the sellers first prior to buying.
Ulos is suitable for different occasions like weddings, parties, and burial ceremonies. When it comes to celebrations or parties, it is better to buy ones with bright colors. On the other hands, dark and gloom colors suit burial ceremonies well. As for the tip, buyers need to ask the sellers regarding the proper treatment of the fabric. A frequent washing is not recommended, as it may damage its quality.
Nearby Attractions
Pangururan Town
Tomok Village
Ambarita Village
Toba Lake
How to Get There
It takes several checkpoints to reach Suhi Suhi Village. From Medan, the whole trip takes roughly 6 hours. First, travelers need to head to Parapat and take a boat to Samosir Island (Tomok Port). From there, they can simply head to Pangururan, which takes about 20 minutes. Another trip is required to reach Suhi Suhi. It would take another 20 minutes, actually.
Where to Stay
Prima Hotel
Parbaba Beach Hotel
Saulina Resort
Cahaya Guest House

Latest News
Lake Toba is indeed a favorite tourist destination when visiting North Sumatra. The charm of beauty offered in this lake area is indeed never ending to be explored. One of them is the uniqueness of the 'lake above the lake'. This nickname is familiar to local people and tourists when mentioning Lake Sidihoni, which is in the Lake Toba area. This lake is located on Samosir Island, which is an island in the middle of Lake Toba. That's why, this lake nicknamed is the 'lake above the lake'. Here are…
---
For those of you who come to Nias Island for your next vacation, it is better to find information about attractions that were previously available. As for reference, the beautiful beach is in West Nias Regency named Sirombu. Usually tour agents will recommend this place to locals and foreigners. The reason is none other than the sunset view. In addition, Sirombu Beach is also equipped with amazing facilities and surroundings. Not surprisingly, many people consider it the best vacation spot in West Nias Regency. It is true that Sirombu Beach…
---
What makes Indonesia is a worthy vacation destination? Many travelers are impressed by nature beauty of the country. Moreover, there is a famous tourist spot in North Sumatra Province, which is called Toba Lake. Being the biggest lake in Indonesia, Toba becomes the signature tourism in Sumatra Island. It is because the flawless nature and pristine water would satisfy all visitors. People come to the lake to enjoy a family recreation, sightseeing, photography, and exploration. The fact is many different tourist spots are scattered around the lake. Tourists can explore…
---
Bohorok Rehabilitation Center Bohorok Rehabilitation Center is a shelter for Orangutan in Sumatra that settled in Bukit Lawang. Bukit Lawang is one of the top destinations in Sumatra; Bukit Lawang is a small village on the edge of Gunung Leuser National Park in North Sumatra. Situated around 90 km north-west of Medan along the clear Bohorok River and on the outskirts of the tropical rainforest. As we know, The Gunung Leuser National Park is also one of the homes to Orangutan that spread in entire Sumatra Island. Thomas Leaf monkeys, Black Gibbons, White…
---