Ransang Bosi Village in Samosir Island
---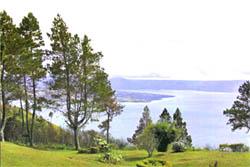 Toba Lake is an icon of North Sumatra. It has attracted more visitors every day. Not to mention there is Samosir Island. This is the major island in the midst of the lake. There are many small villages in it, as well. Each of them offers unique beauty so it is worth to visit. Ransang Bosi is one of them. The village is famous for its nature attractions. You can do many things here. These include a natural pond, the famous black garlic, and nearby villages.
Getting Around Ransang Bosi
Ransang Bosi is a calm village. It becomes a perfect vacation retreat for everyone. You can relax and get closer to nature. There are many wild plants and trees nearby. It also features a river. The villagers are approachable. Some of them even offer guidance for tourists. They can help you get around the village and visit some interesting spots. Actually, there is a famous product here. The name is black garlic. Some people call it the magic black garlic.
Once you arrive at Ransang Bosi, you can explore this location. The village is famous for its black garlic. What is it, exactly? It is fermented garlic. The locals take advantage of the pharmacological process to create such unique commodity. As a tourist, you can buy this healthy herbal product. It gives amazing health effects. It can be a perfect supplement to retain both stamina and vitality. Usually, tourists buy some black garlic for their families or friends. There are some local sellers in the village so you can easily buy it.
The next attraction is Namboru Boru Saroding. It is a sacred pond. Since it opens for public, tourists are allowed to come here. As the name suggests, it was the bathing place of Baru Saroding. She was a legend. Many tourists come here to learn about this folklore. Are you interested? It is located near to Ransang Bosi. To be exact, it is situated in Sitio tio District. Once you reach the location, you may find a beautiful landscape and calm atmosphere. It is a worthy place to visit!
Another interesting thing is Batak culinary. If you visit Ransang Bosi Village, you should try some local foods. Have you ever heard Dali Na Horbo? It is made of buffalo milk. According to the locals, it has been the part of Batak culture. Not to mention it has been around for hundreds of years. In terms of appearance, it is similar to porridge. What about the taste? It tastes like a cheese. Some people even call it Bataknese cheese.
How to Get There
It takes about 240 km from Medan to Ransang Bosi. However, it is an easy route as you only need to use Sidikalang Street. Once you reach Ajibata, you must cross Toba Lake. No worries. There is a ferry service in the port. From here, you will head to Tomok. The next destination is definitely Ransang Bosi Village. During the trip, you can witness beautiful scenery. It will be an astonishing experience. Once you arrive at the village, you can do what you need to do.

Latest News
Lake Toba is indeed a favorite tourist destination when visiting North Sumatra. The charm of beauty offered in this lake area is indeed never ending to be explored. One of them is the uniqueness of the 'lake above the lake'. This nickname is familiar to local people and tourists when mentioning Lake Sidihoni, which is in the Lake Toba area. This lake is located on Samosir Island, which is an island in the middle of Lake Toba. That's why, this lake nicknamed is the 'lake above the lake'. Here are…
---
For those of you who come to Nias Island for your next vacation, it is better to find information about attractions that were previously available. As for reference, the beautiful beach is in West Nias Regency named Sirombu. Usually tour agents will recommend this place to locals and foreigners. The reason is none other than the sunset view. In addition, Sirombu Beach is also equipped with amazing facilities and surroundings. Not surprisingly, many people consider it the best vacation spot in West Nias Regency. It is true that Sirombu Beach…
---
What makes Indonesia is a worthy vacation destination? Many travelers are impressed by nature beauty of the country. Moreover, there is a famous tourist spot in North Sumatra Province, which is called Toba Lake. Being the biggest lake in Indonesia, Toba becomes the signature tourism in Sumatra Island. It is because the flawless nature and pristine water would satisfy all visitors. People come to the lake to enjoy a family recreation, sightseeing, photography, and exploration. The fact is many different tourist spots are scattered around the lake. Tourists can explore…
---
Bohorok Rehabilitation Center Bohorok Rehabilitation Center is a shelter for Orangutan in Sumatra that settled in Bukit Lawang. Bukit Lawang is one of the top destinations in Sumatra; Bukit Lawang is a small village on the edge of Gunung Leuser National Park in North Sumatra. Situated around 90 km north-west of Medan along the clear Bohorok River and on the outskirts of the tropical rainforest. As we know, The Gunung Leuser National Park is also one of the homes to Orangutan that spread in entire Sumatra Island. Thomas Leaf monkeys, Black Gibbons, White…
---