Exploring a Hidden Tourist Spot in Parapat – Binangalom Waterfall
---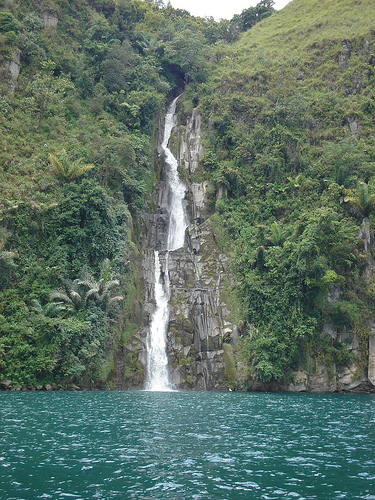 People of Sumatra are familiar with Parapat. It is one of the most recommended tourist destinations in North Sumatra. Not only it has the legendary "Batu Gantung", it also offers a nature beauty like Binangalom Waterfall. It is the most iconic waterfall in North Sumatra. Why is that? It water falls straight into the lake! It is located adjacent to the famous Toba Lake. The name derives from the local village situated near to this lake. Since it is located near to the lake, you can enjoy both of them at the same time.
About Binangalom Waterfall
Binangalom Waterfall means the "refreshing water". No wonder, it is quite cool and refreshing when you come near to it. Also, the waterfall features a fresh weather and beautiful scenery. Do you wonder about the source of the water? Well, it comes from the river located near to the village. There are 7 levels of height and it directly falls into the Toba Lake. However, this tourist spot doesn't have proper access. For many, it can be quite uncomfortable.
The locals call this tourist attraction as Situmurun Waterfall. Thus, you shouldn't be confused with it. The most famous thing to do is swimming. It is only for professional swimmers, though. If you come with kids, you must restrict them. The current is quite strong, so it is dangerous for beginners. It is better to sit and relax nearby. You may see some birds and fishes. What a peaceful activity! Getting closer to nature is the best remedy for anxiety. This is the place to refresh your mind and body.
If you want to swim badly, you can wear a life vest. That means beginners can even swim in the lake safely. Once you enjoy swimming, you can do other activities. Binangalom Waterfall is suitable for a group activity and a family outing. What about a BBQ party? It is a good idea! However, you mustn't litter. Make sure you keep the environment clean. Eating good foods while enjoying the beauty of the waterfall are irreplaceable.
In a nutshell, Binangalom Waterfall offers numerous benefits. Not only it is unique, but it also offers clean and fresh water. You can feel the cool water and swim around. The rumor has it. If you take a shower under the waterfall, you are likely to find your soul mate sooner. Another benefit is the location. It is situated near to Balige and Parapat. The best time to visit the waterfall is during summer. The water is clean and the weather is nice.
How to Get There
From Medan, you can directly head to Parapat. You only need to follow the main street. Once you reach Parapat, you may continue to Biningalom Village. It is about 2 hours from Parapat. In the village, you must use a boat to reach the waterfall. It usually takes an hour from the port. The water is quite calm. It will be a comfortable trip, for sure. Make sure you have prepared everything. These include snacks, bottled water, a life vest, etc.

Latest News
Lake Toba is indeed a favorite tourist destination when visiting North Sumatra. The charm of beauty offered in this lake area is indeed never ending to be explored. One of them is the uniqueness of the 'lake above the lake'. This nickname is familiar to local people and tourists when mentioning Lake Sidihoni, which is in the Lake Toba area. This lake is located on Samosir Island, which is an island in the middle of Lake Toba. That's why, this lake nicknamed is the 'lake above the lake'. Here are…
---
For those of you who come to Nias Island for your next vacation, it is better to find information about attractions that were previously available. As for reference, the beautiful beach is in West Nias Regency named Sirombu. Usually tour agents will recommend this place to locals and foreigners. The reason is none other than the sunset view. In addition, Sirombu Beach is also equipped with amazing facilities and surroundings. Not surprisingly, many people consider it the best vacation spot in West Nias Regency. It is true that Sirombu Beach…
---
What makes Indonesia is a worthy vacation destination? Many travelers are impressed by nature beauty of the country. Moreover, there is a famous tourist spot in North Sumatra Province, which is called Toba Lake. Being the biggest lake in Indonesia, Toba becomes the signature tourism in Sumatra Island. It is because the flawless nature and pristine water would satisfy all visitors. People come to the lake to enjoy a family recreation, sightseeing, photography, and exploration. The fact is many different tourist spots are scattered around the lake. Tourists can explore…
---
Bohorok Rehabilitation Center Bohorok Rehabilitation Center is a shelter for Orangutan in Sumatra that settled in Bukit Lawang. Bukit Lawang is one of the top destinations in Sumatra; Bukit Lawang is a small village on the edge of Gunung Leuser National Park in North Sumatra. Situated around 90 km north-west of Medan along the clear Bohorok River and on the outskirts of the tropical rainforest. As we know, The Gunung Leuser National Park is also one of the homes to Orangutan that spread in entire Sumatra Island. Thomas Leaf monkeys, Black Gibbons, White…
---