Aek Natonang Lake – A Sub-Lake of Pangururan
---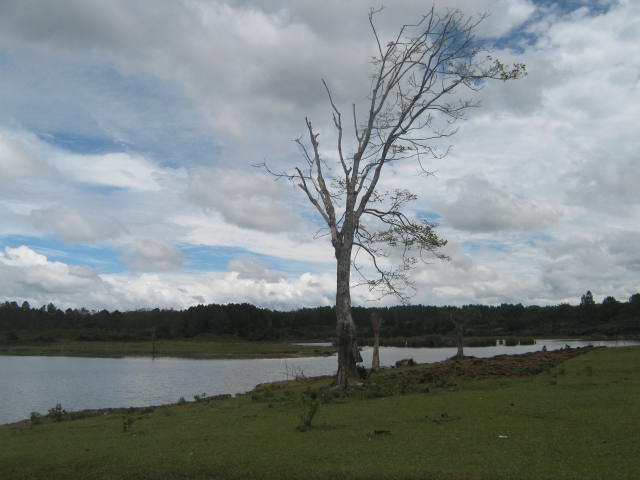 Toba Lake is the most famous tourist spot in North Sumatra. It is quite big and beautiful. The lake also features some islands and villages. The biggest island is Samosir and it has a small lake located in Pangururan District. The name is Aek Natonang. Local people often call it Sidihoni Lake. There aren't many facilities nearby. Though, it helps you enjoy the nature perfectly. Since there are no local eateries, you should bring some snacks and bottled drinks. What are the best parts of the lake, actually?
Nature Tourism in Aek Natonang Lake
The lake is part of Toba Caldera. Aek Natonang's size is about 105 ha. It has numerous benefits for both the locals and visitors. Importantly, it becomes the source of water. People use it for irrigation. It is because there are many farms located near to this lake. The water can reach about 1790 ha. Apart from that, the lake also becomes a center of nature tourism. People call it a lake over a lake. The others call it the daughter of Toba Lake.
Once you arrive at Aek Natonang Lake, you can feel a refreshing air and calm atmosphere. The lake features clear water and grassy landscape. You can also see beautiful hills and pine trees around it. In some parts of the lake, you may witness active villagers. They come from Tanjungan Village. Most of them are farmers so you can observe their daily routines in the farm. Moreover, you may expect some photographers and nature lovers during holidays. Just like you, they are visitors.
The only downside of Aek Natonang Lake is its accessibility. No worries. This weakness is covered by a beautiful trip. There aren't many accommodations and facilities. You should not expect a luxury here. This location is suitable for nature lovers. Therefore, you must bring a good camera. If you are lucky, some buffalos come here for grazing. A herdsman often lead their buffalos near to lake as well.
Aek Natonang is indeed a great lure in Pangururan. Though, you can explore nearby charms as well. For instance, there is Aek Rangat. It is a public hot spring. You are able to feel the warm water and restore your stamina here. The location is about 3 km from Pangururan City. Next, you can visit Tano Ponggol Canal. It separates Sumatra and Samosir Island. In fact, it is still functioning. Another unique lure is Liberty Malau Statue. This famous statue was built to commemorate the struggle of local heroes during the revolution.
How to Get There
Aek Natonang Lake is located in Tanjungan Village. It takes 30 minutes from Tomok. If you come from Medan, the trip takes about 6-7 hours. The distance is approximately 200 km. You can access it using a car, a motorcycle, or other types of vehicles. The lane isn't smooth as you can find many turns and lifts. You can witness numerous trees and farms during the trip, though. As for hotels, the nearest one is Toba Beach Hotel. It is located near to Samosir Botanical Garden.

Latest News
Lake Toba is indeed a favorite tourist destination when visiting North Sumatra. The charm of beauty offered in this lake area is indeed never ending to be explored. One of them is the uniqueness of the 'lake above the lake'. This nickname is familiar to local people and tourists when mentioning Lake Sidihoni, which is in the Lake Toba area. This lake is located on Samosir Island, which is an island in the middle of Lake Toba. That's why, this lake nicknamed is the 'lake above the lake'. Here are…
---
For those of you who come to Nias Island for your next vacation, it is better to find information about attractions that were previously available. As for reference, the beautiful beach is in West Nias Regency named Sirombu. Usually tour agents will recommend this place to locals and foreigners. The reason is none other than the sunset view. In addition, Sirombu Beach is also equipped with amazing facilities and surroundings. Not surprisingly, many people consider it the best vacation spot in West Nias Regency. It is true that Sirombu Beach…
---
What makes Indonesia is a worthy vacation destination? Many travelers are impressed by nature beauty of the country. Moreover, there is a famous tourist spot in North Sumatra Province, which is called Toba Lake. Being the biggest lake in Indonesia, Toba becomes the signature tourism in Sumatra Island. It is because the flawless nature and pristine water would satisfy all visitors. People come to the lake to enjoy a family recreation, sightseeing, photography, and exploration. The fact is many different tourist spots are scattered around the lake. Tourists can explore…
---
Bohorok Rehabilitation Center Bohorok Rehabilitation Center is a shelter for Orangutan in Sumatra that settled in Bukit Lawang. Bukit Lawang is one of the top destinations in Sumatra; Bukit Lawang is a small village on the edge of Gunung Leuser National Park in North Sumatra. Situated around 90 km north-west of Medan along the clear Bohorok River and on the outskirts of the tropical rainforest. As we know, The Gunung Leuser National Park is also one of the homes to Orangutan that spread in entire Sumatra Island. Thomas Leaf monkeys, Black Gibbons, White…
---