Astonishing Parapat Town in North Sumatra Province
---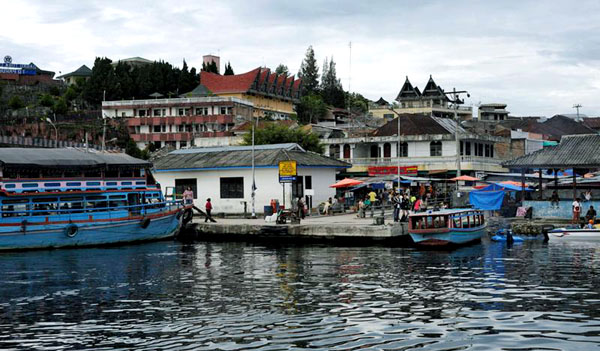 It is true Toba Lake becomes the most popular tourist spot in North Sumatra Province. However, many other attractions reside in such region and one of them is called Parapat Town. It is located in the south part of the province, offering beautiful views of nature and interesting local traditions. It belongs to Girsang Sipanganbolon Sub-district and is inhabited by Batak Karo, Toba, Pakpak, and Siamlungun Tribe. The rest of villagers come from different ethnics like Sunda, China, Padang, and Java, though. This explains why Parapat has numerous cultures and traditions. No wonder, tourists become more interested in exploring all parts of Parapat City.
The Nuance
In terms of nuance, the town emits a peaceful ambiance. It is because the location is near to Toba Lake and many types of trees grow well there. Due to the richness of culture, the town has different types of architectures including churches, monasteries, and mosques. Not to mention traditional Batak houses are scattered all over the city. Despite the small size, Parapat is worth an exploration. Not to mention many types of facilities are available there, including restaurants and hotels. Tourists can also find local tour guide services easily, so they won't get lost when exploring the town.
Exploring Parapat Town
Many beautiful spots are available in Parapat Town. For instance, there is Tanjung Sipora-pora, which resides in the west part of the city. In order to reach the location, tourists need to pass through a challenging route. Have no worries. It is quite rewarding. The site is famous for its majestic architectures! Many rustic colonial buildings are scattered in the location. These are the reminiscences of the Dutch colonialism, actually. The thing is some of them don't come in a good condition. There is also a historical building, where the first president of Indonesia was exiled by the Dutch.
In the east part of Parapat Town, tourists can see unique buildings that apply the combination of modern, traditional, and tropical design. They can explore them all and take some pictures of those buildings. Plus, it is possible to learn a bit history of those structures. What's next? It is related to its culinary. The town is famous for its signature dishes like Naniura, Lomok-Lomok, Dali, Lapet, Naniarsik, and much more! The best menu is definitely the local grilled fish. The locals also have numerous recipes regarding fish dishes. The best thing is tourists can enjoy all of them without spending too much money.
Next, it is time to learn about an urban legend called Batu Gantung. According to the locals, a couple ran away from their homes due to a forbidden relationship. They were chased by their family and fell into the sea. Instead of falling into the water, their body hung on the edge of the hill. Due to a mystical power, their bodies turned into stones!
Nearby Attractions
Toba Lake
Samosir Island
Batu Gantung
How to Get There
For those coming from Medan City, the trip takes about 3-4 hours as the distance is 176 km. They can take either public transportation services or a private car, actually. Once they reach Parapat, they can explore the town by an ojek service or other types of transportations.
Where to Stay
Niagara Hotel
Patra Jasa Resort
Inna Hotel
Pandu Lakeside Hotel

Latest News
Lake Toba is indeed a favorite tourist destination when visiting North Sumatra. The charm of beauty offered in this lake area is indeed never ending to be explored. One of them is the uniqueness of the 'lake above the lake'. This nickname is familiar to local people and tourists when mentioning Lake Sidihoni, which is in the Lake Toba area. This lake is located on Samosir Island, which is an island in the middle of Lake Toba. That's why, this lake nicknamed is the 'lake above the lake'. Here are…
---
For those of you who come to Nias Island for your next vacation, it is better to find information about attractions that were previously available. As for reference, the beautiful beach is in West Nias Regency named Sirombu. Usually tour agents will recommend this place to locals and foreigners. The reason is none other than the sunset view. In addition, Sirombu Beach is also equipped with amazing facilities and surroundings. Not surprisingly, many people consider it the best vacation spot in West Nias Regency. It is true that Sirombu Beach…
---
What makes Indonesia is a worthy vacation destination? Many travelers are impressed by nature beauty of the country. Moreover, there is a famous tourist spot in North Sumatra Province, which is called Toba Lake. Being the biggest lake in Indonesia, Toba becomes the signature tourism in Sumatra Island. It is because the flawless nature and pristine water would satisfy all visitors. People come to the lake to enjoy a family recreation, sightseeing, photography, and exploration. The fact is many different tourist spots are scattered around the lake. Tourists can explore…
---
Bohorok Rehabilitation Center Bohorok Rehabilitation Center is a shelter for Orangutan in Sumatra that settled in Bukit Lawang. Bukit Lawang is one of the top destinations in Sumatra; Bukit Lawang is a small village on the edge of Gunung Leuser National Park in North Sumatra. Situated around 90 km north-west of Medan along the clear Bohorok River and on the outskirts of the tropical rainforest. As we know, The Gunung Leuser National Park is also one of the homes to Orangutan that spread in entire Sumatra Island. Thomas Leaf monkeys, Black Gibbons, White…
---