The Liberty Statue of Malau Samosir
---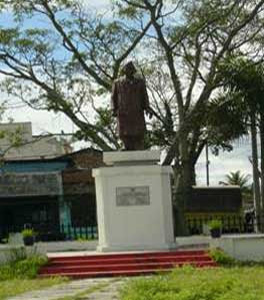 When it comes to the Statue of Liberty, most of you think about New York. Well, Pangururan also has such kind of statue actually. It is located in Samosir Regency. Is it the same to that of New York? No, it is not. It has a completely different appearance and size. The statue was built to commemorate a spirit of local hero during the fight against the invaders in Samosir. He was a colonel and he came from Batak. This iconic statue is situated in the front gate of Pangururan City.
About Malau Liberty Statue
What makes it interesting? Some tourists are attracted by its historical value. Not to mention it becomes one of tourist attractions in Samosir. Malau Liberty Statue was inaugurated by Inal Siregar in 1992. At that time, he was the Governor of North Sumatra Province. Also, a veteran gave a signature to this statue. He was Manihuruk, an Indonesian Army veteran. Today, the statue becomes a lure to tourists, especially those who visit Samosir. Many local people come to this area in the afternoon. They want to enjoy a good time and hang out with friends.
Malau Liberty Statue is located in the midst of the city. That means everyone can easily access it. Some trees surround the statue, so it gives a shady ambiance to visitors. What about the appearance? It is not quite big. It is a man holding a sheathed sword. He wears a war costume and a hat. It quite represents a revolutionary soldier of 1945s. The statue stands on a pedestal. You can see the description of inauguration and signatures on it.
Usually, tourists take some pictures in front of Malau Liberty Statue. You can even learn a little bit history about this colonel. With the help of a tour guide, it is possible. What is next? Pangururan has other tourist attractions. Once you visit the statue, you can visit other interesting places nearby. For example, there is an open stage. It is located in the midsts of Pangururan City. It is the place for cultural and arts performances. If you come at the right time, you can enjoy seeing these attractions.
There are many nearby tourist spots. Apart from an open stage, you can visit a hot spring. It is about 3 km from Pangururan. Also, there is Samosir Island. It is the most famous attraction here. Next, there is Tano Ponggol Canal. It separates Sumatra Island and Samosir Island. The canal was built during the Dutch Colonialism. For those who love history, Malau Liberty Statue indeed becomes the main point when visiting Pangururan.
How to Get There
The trip takes 5-6 hours from Medan. It is about 208 km. If you drive a car, you need to pass through Sidikalang Street. Next, you need to head to Ajibata. From here, you should ride a ferry. Your destination is Tomok, Samosir Island. Once you arrive at the island, you can continue your trip to Pangururan. Malau Liberty Statue is situated in the midst of the city. You can easily reach it, for sure.

Latest News
Lake Toba is indeed a favorite tourist destination when visiting North Sumatra. The charm of beauty offered in this lake area is indeed never ending to be explored. One of them is the uniqueness of the 'lake above the lake'. This nickname is familiar to local people and tourists when mentioning Lake Sidihoni, which is in the Lake Toba area. This lake is located on Samosir Island, which is an island in the middle of Lake Toba. That's why, this lake nicknamed is the 'lake above the lake'. Here are…
---
For those of you who come to Nias Island for your next vacation, it is better to find information about attractions that were previously available. As for reference, the beautiful beach is in West Nias Regency named Sirombu. Usually tour agents will recommend this place to locals and foreigners. The reason is none other than the sunset view. In addition, Sirombu Beach is also equipped with amazing facilities and surroundings. Not surprisingly, many people consider it the best vacation spot in West Nias Regency. It is true that Sirombu Beach…
---
What makes Indonesia is a worthy vacation destination? Many travelers are impressed by nature beauty of the country. Moreover, there is a famous tourist spot in North Sumatra Province, which is called Toba Lake. Being the biggest lake in Indonesia, Toba becomes the signature tourism in Sumatra Island. It is because the flawless nature and pristine water would satisfy all visitors. People come to the lake to enjoy a family recreation, sightseeing, photography, and exploration. The fact is many different tourist spots are scattered around the lake. Tourists can explore…
---
Bohorok Rehabilitation Center Bohorok Rehabilitation Center is a shelter for Orangutan in Sumatra that settled in Bukit Lawang. Bukit Lawang is one of the top destinations in Sumatra; Bukit Lawang is a small village on the edge of Gunung Leuser National Park in North Sumatra. Situated around 90 km north-west of Medan along the clear Bohorok River and on the outskirts of the tropical rainforest. As we know, The Gunung Leuser National Park is also one of the homes to Orangutan that spread in entire Sumatra Island. Thomas Leaf monkeys, Black Gibbons, White…
---