Siallagan Village in Samosir Island, North Sumatra Province
---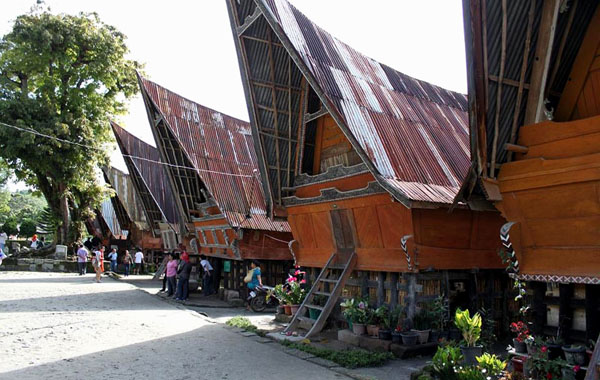 Samosir Island is an important tourist spot in North Sumatra Province apart from Toba Lake. The fact is it is the part of such fabulous lake. The island is famous for its flawless nature and traditional settlements. In Ambarita Village, there is a small settlement called Siallagan. It belongs to Simanindo Sub-district, actually. The location is near to other villages like Tuktuk and Tomok, which takes about 20 minutes from those areas. When it comes to the most popular attraction, people are into the Stone Chair of King Siallagan! Simply put, that historical site offers both unique history and nuance to tourists and visitors.
The Nuance
The size of Huta Siallagan is about 2,400 m2 and it is surrounded by lush nature and stone fences. Despite the small size, it is considered a beautiful settlement. In fact, visitors can feel a traditional nuance due to the presence of a bamboo fort that was used to prevent attacks from either animals or enemies back then. When it is about the name, it was inspired by the first king of Huta – Laga Siallagan. This explains why tourists can find some ancient tombstones of such king and his descendants in the village.
Exploring Siallagan Village
Once visitors get to Siallagan Village, they might see several traditional Batak Houses that have been there since hundreds of years ago. These houses have different functions, actually. Some of them were used as the king's residents, while the others were used to exile people. There is also a big old tree, residing near to those houses. According to the locals, the tree is sacred and haunted. This is why the aura is a bit creepy there. Instead of being afraid, tourists are likely to take pictures in front of it!
The most famous attraction in Siallagan Village is the Stone Court or "Batu Persidangan". As the name implies, it was used to conduct a court among the locals. In order to learn the history of such historical site, visitors can talk to their tour guide. As an alternative, they can ask information from villagers. Apart from hearing such interesting story, they are allowed to take pictures on the site. The thing is they should not litter or cause damages to the site. These are common rules when visiting a tourist spot, after all.
What's next? Siallagan Village is also famous for its traditional dance, which is called Tor-Tor. Not only tourists can enjoy the dance, but they are also allowed to join it. Have no worries. The local dancers might teach them how to perform it. It would be a memorable experience, so all visitors should try it someday when visiting Siallagan.
Nearby Attractions
Ambarita Village
Tomok Village
Tuktuk Village
How to Get There
For those coming from Medan, the first checkpoint is Parapat Town. From there, they need to take a boat and head to Tomok Port. The next trip heads to Ambarita Village, which takes about 20 minutes. Next, tourists can simply walk to reach Siallagan, as the location is quite near to Ambarita. That's it.
Where to Stay
Sopo Toba Hotel
Carolina Hotel
Silintong Hotel

Latest News
Lake Toba is indeed a favorite tourist destination when visiting North Sumatra. The charm of beauty offered in this lake area is indeed never ending to be explored. One of them is the uniqueness of the 'lake above the lake'. This nickname is familiar to local people and tourists when mentioning Lake Sidihoni, which is in the Lake Toba area. This lake is located on Samosir Island, which is an island in the middle of Lake Toba. That's why, this lake nicknamed is the 'lake above the lake'. Here are…
---
For those of you who come to Nias Island for your next vacation, it is better to find information about attractions that were previously available. As for reference, the beautiful beach is in West Nias Regency named Sirombu. Usually tour agents will recommend this place to locals and foreigners. The reason is none other than the sunset view. In addition, Sirombu Beach is also equipped with amazing facilities and surroundings. Not surprisingly, many people consider it the best vacation spot in West Nias Regency. It is true that Sirombu Beach…
---
What makes Indonesia is a worthy vacation destination? Many travelers are impressed by nature beauty of the country. Moreover, there is a famous tourist spot in North Sumatra Province, which is called Toba Lake. Being the biggest lake in Indonesia, Toba becomes the signature tourism in Sumatra Island. It is because the flawless nature and pristine water would satisfy all visitors. People come to the lake to enjoy a family recreation, sightseeing, photography, and exploration. The fact is many different tourist spots are scattered around the lake. Tourists can explore…
---
Bohorok Rehabilitation Center Bohorok Rehabilitation Center is a shelter for Orangutan in Sumatra that settled in Bukit Lawang. Bukit Lawang is one of the top destinations in Sumatra; Bukit Lawang is a small village on the edge of Gunung Leuser National Park in North Sumatra. Situated around 90 km north-west of Medan along the clear Bohorok River and on the outskirts of the tropical rainforest. As we know, The Gunung Leuser National Park is also one of the homes to Orangutan that spread in entire Sumatra Island. Thomas Leaf monkeys, Black Gibbons, White…
---