Bebas Sukkean Beach in Samosir as a Holiday Destination
---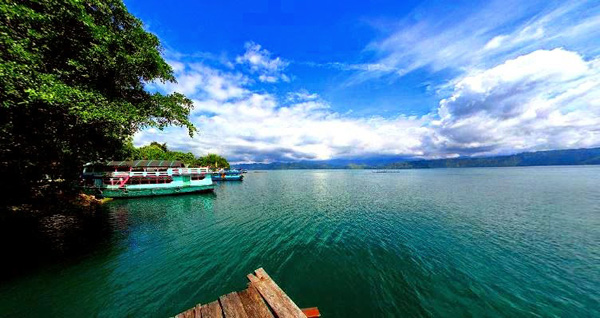 Many vacation spots are available in Samosir, North Sumatra. These include cultural and natural tourism. Have you ever heard Bebas Sukkean Beach? It is a distinct lake beach in Onan Runggu District. It is also near to Hairara Nabolon. Usually, tourists visit both of these locations at once. The beach is famous for its port. The locals call it Sukkean Dock. It opens both for local and foreign tourists. That means everyone can spend a unique holiday here. When you visit Samosir, it should be on your list.
Exploring Bebas Sukkean Beach
Toba Lake has clear and warm water. This way, Maria Raja Beach is suitable for tourists. Apart from its water, you can also enjoy its scenery. The beach features the Bukit Barisan across the lake. Here is the fact. Onan Runggu District is famous for its natural tourism. Maria Raja Village is part of it. The most favorite destination is definitely the beach. Most of the tourists want to enjoy its beautiful white sand. Plus, there are nearby attractions. You can even visit Tambun Surlau. It is a worthy historical site. What is more?
As mentioned earlier, Bebas Sukkean Beach is situated in the same district as Hariara Na Bolon. You will definitely visit this tourist spot. What is it exactly? Na Bolon is an old banyan tree. It has been there for hundreds of years. Due to its age, the tree has merged with its surrounding. Not to mention it attracts more visitors to Onan Runggu District. Plus, it becomes a great extra for Bebas Beach. The best thing to do is to take pictures in front of this banyan tree.
Next, you can enjoy a special event near to Onan Runggu District. The locals often celebrate some big events, especially the Independence Day of Indonesia. If you come at the right time, you can enjoy some performances like music and dances. Also, many famous musicians will make it more festive. The best performance is usually performed by Plot Opera Studio. They may perform a different story for each event, after all. The best part is the stage. It will be performed on a floating stage.
Also, Onan Runggu District is famous for its dock. Even though it is a well-known port, it doesn't have a good condition. It seems local people abandon the dock due to financial issues. Some parts of the dock are damaged. It is better to watch your steps. Even though it is in a bad shape, the port can be a great background for photography. It gives a natural rustic effect.
How to Get There
From Medan, you must head to Tomok. From here, you should go left and head to Onan Runggu District. What is on the right, actually? It is the path to Simanindo. Once you reach Onan, you can look ask the locals regarding Bebas Beach. They are quite friendly, so you should ask for their help. What about the accommodations? You can rent either a hotel or motel.

Latest News
Lake Toba is indeed a favorite tourist destination when visiting North Sumatra. The charm of beauty offered in this lake area is indeed never ending to be explored. One of them is the uniqueness of the 'lake above the lake'. This nickname is familiar to local people and tourists when mentioning Lake Sidihoni, which is in the Lake Toba area. This lake is located on Samosir Island, which is an island in the middle of Lake Toba. That's why, this lake nicknamed is the 'lake above the lake'. Here are…
---
For those of you who come to Nias Island for your next vacation, it is better to find information about attractions that were previously available. As for reference, the beautiful beach is in West Nias Regency named Sirombu. Usually tour agents will recommend this place to locals and foreigners. The reason is none other than the sunset view. In addition, Sirombu Beach is also equipped with amazing facilities and surroundings. Not surprisingly, many people consider it the best vacation spot in West Nias Regency. It is true that Sirombu Beach…
---
What makes Indonesia is a worthy vacation destination? Many travelers are impressed by nature beauty of the country. Moreover, there is a famous tourist spot in North Sumatra Province, which is called Toba Lake. Being the biggest lake in Indonesia, Toba becomes the signature tourism in Sumatra Island. It is because the flawless nature and pristine water would satisfy all visitors. People come to the lake to enjoy a family recreation, sightseeing, photography, and exploration. The fact is many different tourist spots are scattered around the lake. Tourists can explore…
---
Bohorok Rehabilitation Center Bohorok Rehabilitation Center is a shelter for Orangutan in Sumatra that settled in Bukit Lawang. Bukit Lawang is one of the top destinations in Sumatra; Bukit Lawang is a small village on the edge of Gunung Leuser National Park in North Sumatra. Situated around 90 km north-west of Medan along the clear Bohorok River and on the outskirts of the tropical rainforest. As we know, The Gunung Leuser National Park is also one of the homes to Orangutan that spread in entire Sumatra Island. Thomas Leaf monkeys, Black Gibbons, White…
---