Simalem Resort Park in Sidikalang, Tanah Karo
---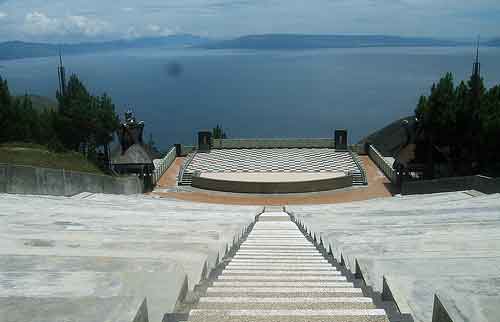 A vacation is a remedy for stress. Fortunately, there are tons of vacation destinations in this world. In Indonesia, you should visit North Sumatra. Aside from Toba Lake, the province becomes the home of hundreds of tourist spots. Have you ever heard Simalem Resort Park? It is the place to look for both an adventure and amusement. The location is in Sidikalang, Tanah Karo. The size of the park is about 205 hectare and it is suitable either for a relaxing or family vacation. Sometimes, students come here for a field trip.
Different Tracks in Simalem Resort Park
There are different tracks to explore the park. These include the tree hill, Tongging Point, Golf Track, and zoo. The first track is One Tree Hill. From the main gate, you should head to citrus orchard. The track is located near to the Wealth Fountain. From here, you are able to witness the beauty of the lake. In fact, it is the highest point of the park. It also offers a trekking track Twin Fountain. One thing, you should pay for this activity. Normally, it takes about 3 hours. You can buy the ticket from Kodon-Kodon Café. Make sure that you have prepared trekking footwear beforehand.
Next, it is Tongging Point. It features a plain and climb track. If you follow this path, you can find many attractions. These include Toba Café, Tongging Point, and the Pearl of Lake. Not to mention you can also visit the fruit house. All of them are interesting. You can do many activities like photography. Furthermore, there are some local accommodations. That means you can rent a room for resting. What about foods? You can visit Tongging Mart. It is the place for buying snacks and souvenirs.
The next option is the golf and shrine track. It is actually the last track in Fountain of Wealth. From the gate, you need to turn left. It heads to Biwa Garden. However, you shouldn't have a huge expectation here. Why? There is nothing special. The track doesn't feature any attractions. For many, it can be quite boring. Though, you can find a golf field and a shrine nearby. The temple is situated at the end of the track.
The last track is definitely interesting. It is because you can find an outbound field, flower garden, and a zoo. Actually, it is the most popular track in Simalem Resort Park. From the gate, you can find a pine forest. It is the best place for relaxing, after all. There are two paths to choose. The right path leads to the Fountain of Wealth. The left one is the main tourist point. There is also information booth. That means you aren't likely to get lost.
How to Get There
Simalem Resort Park is located in Tanah Karo. From Medan, it takes about 3 hours. If you come from Tanjungbalai, you need to pass through Siantar. Not to mention it takes longer, which is about 5 hours. Once you reach Sidikalang, you can feel cold weather. It is similar to that of Berastagi. In fact, it is located near to Berastagi.

Latest News
Lake Toba is indeed a favorite tourist destination when visiting North Sumatra. The charm of beauty offered in this lake area is indeed never ending to be explored. One of them is the uniqueness of the 'lake above the lake'. This nickname is familiar to local people and tourists when mentioning Lake Sidihoni, which is in the Lake Toba area. This lake is located on Samosir Island, which is an island in the middle of Lake Toba. That's why, this lake nicknamed is the 'lake above the lake'. Here are…
---
For those of you who come to Nias Island for your next vacation, it is better to find information about attractions that were previously available. As for reference, the beautiful beach is in West Nias Regency named Sirombu. Usually tour agents will recommend this place to locals and foreigners. The reason is none other than the sunset view. In addition, Sirombu Beach is also equipped with amazing facilities and surroundings. Not surprisingly, many people consider it the best vacation spot in West Nias Regency. It is true that Sirombu Beach…
---
What makes Indonesia is a worthy vacation destination? Many travelers are impressed by nature beauty of the country. Moreover, there is a famous tourist spot in North Sumatra Province, which is called Toba Lake. Being the biggest lake in Indonesia, Toba becomes the signature tourism in Sumatra Island. It is because the flawless nature and pristine water would satisfy all visitors. People come to the lake to enjoy a family recreation, sightseeing, photography, and exploration. The fact is many different tourist spots are scattered around the lake. Tourists can explore…
---
Bohorok Rehabilitation Center Bohorok Rehabilitation Center is a shelter for Orangutan in Sumatra that settled in Bukit Lawang. Bukit Lawang is one of the top destinations in Sumatra; Bukit Lawang is a small village on the edge of Gunung Leuser National Park in North Sumatra. Situated around 90 km north-west of Medan along the clear Bohorok River and on the outskirts of the tropical rainforest. As we know, The Gunung Leuser National Park is also one of the homes to Orangutan that spread in entire Sumatra Island. Thomas Leaf monkeys, Black Gibbons, White…
---