Learn about the Sipitu Cawan Dance
---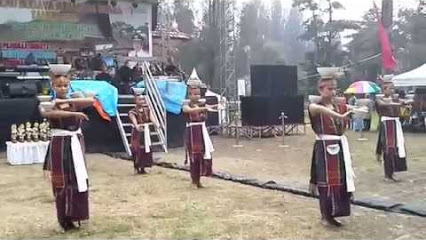 Why should tourists visit North Sumatra? Apart from its tourist spots, there are many attractions available. For instance, visitors can enjoy a unique and beautiful Sipitu Cawan Dance. It is a traditional dance of Batak Tribe. Not to mention it has become the part of local culture. Some people consider it the same as Tor-Tor Dance. Though, it is a little bit different. As the name implies, the dance is performed by women. They also carry cups as the property. It is actually a sacred dance and it is only performed in special events.
About Sipitu Cawan Dance
Apart from its sanctity, Sipitu Cawan Dance has unique moves. In fact, it is quite intricate. Only chosen dancers are able to perform such dance. Due to these reasons, it becomes the most unique and valuable dance in North Sumatra. It consists of 5 to 7 dancers. All of them are females. They wear a traditional Batak clothes and carry some cups. Each of the moves has a unique meaning. Since they need to hold the cups using their body, the must perform the dance carefully.
Sipitu Cawan Dance is a difficult dance. The dancers should have a perfect balance. The cups consist of lime water and the dancers should use their head to carry those cups. Not only they use the head, but they may use other parts of the body. These include the arms, hands, and shoulders. It takes much time for training. Only skilled dancers are allowed to perform the dance. Due to its uniqueness, many tourists come to North Sumatra and enjoy it.
Tourists can also learn the history behind Sipitu Cawan Dance. According to the locals, the dance originally came from the sky. 7 beautiful angels came down to the earth and took a bath in Pusuk Buhit Mountain. Sipitu means "seven" and Cawan means "cups". It is the dance of 7 beautiful angels carrying the cups. Since it is as sacred dance, the locals only perform it during special occasions like the Kings' inauguration. For tourists, it seems hard to enjoy the performance. That means you should look for the schedule first.
Sipitu Cawan Dance has many purposes. For example, it helps both the dancers and audience to get rid of sins and negative thoughts. The lime water in the cups is believed to repel bad things. Thus, the dance is quite sacred. It shouldn't be performed carelessly. If you want to enjoy such dance, you must have been invited to a sacred event. Make sure you have talked to the locals prior to visiting North Sumatra.
How to Get There
You can visit North Sumatra either by air or land. There is Lintas Sumatra Street. It connects big cities in such island. If you come from Jakarta, you should use an airplane to reach Kualanamu Airport. From here, you need to take public transportation. A taxi or rented car is a good choice. The next destination is Tobasa. You can talk to your tour agency regarding the nearby sacred events. If you are lucky, you are able to enjoy the famous Sipitu Cawan Dance.

Latest News
Lake Toba is indeed a favorite tourist destination when visiting North Sumatra. The charm of beauty offered in this lake area is indeed never ending to be explored. One of them is the uniqueness of the 'lake above the lake'. This nickname is familiar to local people and tourists when mentioning Lake Sidihoni, which is in the Lake Toba area. This lake is located on Samosir Island, which is an island in the middle of Lake Toba. That's why, this lake nicknamed is the 'lake above the lake'. Here are…
---
For those of you who come to Nias Island for your next vacation, it is better to find information about attractions that were previously available. As for reference, the beautiful beach is in West Nias Regency named Sirombu. Usually tour agents will recommend this place to locals and foreigners. The reason is none other than the sunset view. In addition, Sirombu Beach is also equipped with amazing facilities and surroundings. Not surprisingly, many people consider it the best vacation spot in West Nias Regency. It is true that Sirombu Beach…
---
What makes Indonesia is a worthy vacation destination? Many travelers are impressed by nature beauty of the country. Moreover, there is a famous tourist spot in North Sumatra Province, which is called Toba Lake. Being the biggest lake in Indonesia, Toba becomes the signature tourism in Sumatra Island. It is because the flawless nature and pristine water would satisfy all visitors. People come to the lake to enjoy a family recreation, sightseeing, photography, and exploration. The fact is many different tourist spots are scattered around the lake. Tourists can explore…
---
Bohorok Rehabilitation Center Bohorok Rehabilitation Center is a shelter for Orangutan in Sumatra that settled in Bukit Lawang. Bukit Lawang is one of the top destinations in Sumatra; Bukit Lawang is a small village on the edge of Gunung Leuser National Park in North Sumatra. Situated around 90 km north-west of Medan along the clear Bohorok River and on the outskirts of the tropical rainforest. As we know, The Gunung Leuser National Park is also one of the homes to Orangutan that spread in entire Sumatra Island. Thomas Leaf monkeys, Black Gibbons, White…
---