Enjoy a Good Vacation in Efrata Waterfall, Harian Samosir
---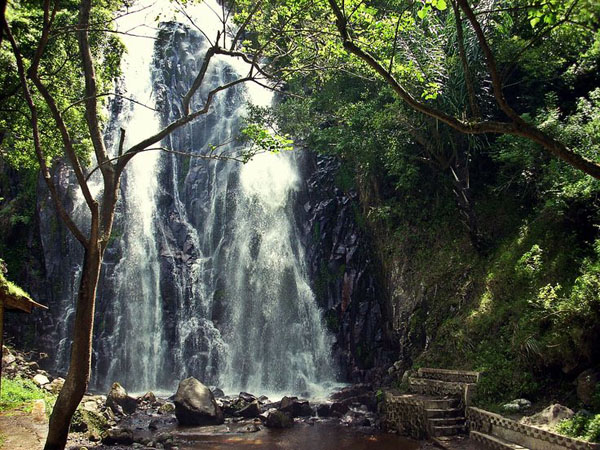 Samosir is famous for its Toba Lake. It becomes a great vacation destination in North Sumatra. However, tourists also come for numerous reasons. For instance, they want to witness the beauty of Efrata Waterfall. It is a stunning tourist spot, which is located in Harian District. The waterfall lies in Solok Dolok Village. It is about 20 km from Samosir Regency, so you can reach it easily. Even though it is a well-known waterfall, not many tourists come here. It is because foreigners haven't been familiar yet with it.
About Efrata Waterfall
The trip takes much time. Not to mention it takes more stamina. If you arrive in the waterfall at night, you need to find a place for sleeping. Some people would like to make a tent. It is possible since the location is good for camping. Not only it offers a peaceful atmosphere, but it also offers beautiful Toba Lake scenery. Near to the waterfall, you may find a local eatery. It becomes a perfect place to replenish your energy. Actually, you can enter the location freely. Though, you must pay the parking fee.
Efrata Waterfall has a strong flow. It is even stronger during the rainy season. The height is about 25-26 meters. It also has the width of 10 m. The source of the water comes from Bukit Barisan Mountains. Once you reach the location, you can feel its cool atmosphere. Not to mention it features stunning background. There are some facilities like toilet and a small cottage. Since it doesn't come with an official management, you may get disappointed with the facilities. Hopefully, the government put more attention to this tourist spot.
The waterfall has an unspoiled beauty. You can either play near to the water or explore the nearby attractions. In some occasions, there are local sand miners. They are actually the Sosor Dolok villagers. For many, their presence is troublesome. It is because you aren't able to change clothes comfortably due to those people. Another issue is the location. You need to watch your steps while reaching the waterfall. The path isn't quite smooth. Fortunately, Efrata Waterfall is located near to local settlement. You can even ask their help to accompany you to the waterfall.
Efrata Waterfall is surrounded by wild trees. Even though it features beautiful scenery, the water isn't as clear as other waterfalls in North Sumatra. However, it becomes a unique attraction for tourists. You can also build a tent here. For families, the waterfall becomes a nice spot for a family outing. Make sure that you bring some items like extra clothes, money, snacks, bottled water, and mosquito repellent.
How to Get There
Efrata Waterfall is located near to Toba Lake. From Samosir, you can directly visit Harian District. Next, you should visit Solok Dolok Village. From here, you need to spend about 10 minutes of walking. Near to the waterfall, there is Tele Tower. You can see the stunning scenery of the lake from this tower. Overall, the waterfall should be one of the best vacation destinations when you are in Samosir. You must not miss it!

Latest News
Lake Toba is indeed a favorite tourist destination when visiting North Sumatra. The charm of beauty offered in this lake area is indeed never ending to be explored. One of them is the uniqueness of the 'lake above the lake'. This nickname is familiar to local people and tourists when mentioning Lake Sidihoni, which is in the Lake Toba area. This lake is located on Samosir Island, which is an island in the middle of Lake Toba. That's why, this lake nicknamed is the 'lake above the lake'. Here are…
---
For those of you who come to Nias Island for your next vacation, it is better to find information about attractions that were previously available. As for reference, the beautiful beach is in West Nias Regency named Sirombu. Usually tour agents will recommend this place to locals and foreigners. The reason is none other than the sunset view. In addition, Sirombu Beach is also equipped with amazing facilities and surroundings. Not surprisingly, many people consider it the best vacation spot in West Nias Regency. It is true that Sirombu Beach…
---
What makes Indonesia is a worthy vacation destination? Many travelers are impressed by nature beauty of the country. Moreover, there is a famous tourist spot in North Sumatra Province, which is called Toba Lake. Being the biggest lake in Indonesia, Toba becomes the signature tourism in Sumatra Island. It is because the flawless nature and pristine water would satisfy all visitors. People come to the lake to enjoy a family recreation, sightseeing, photography, and exploration. The fact is many different tourist spots are scattered around the lake. Tourists can explore…
---
Bohorok Rehabilitation Center Bohorok Rehabilitation Center is a shelter for Orangutan in Sumatra that settled in Bukit Lawang. Bukit Lawang is one of the top destinations in Sumatra; Bukit Lawang is a small village on the edge of Gunung Leuser National Park in North Sumatra. Situated around 90 km north-west of Medan along the clear Bohorok River and on the outskirts of the tropical rainforest. As we know, The Gunung Leuser National Park is also one of the homes to Orangutan that spread in entire Sumatra Island. Thomas Leaf monkeys, Black Gibbons, White…
---