Hutabolon Museum in Simanindo Village
---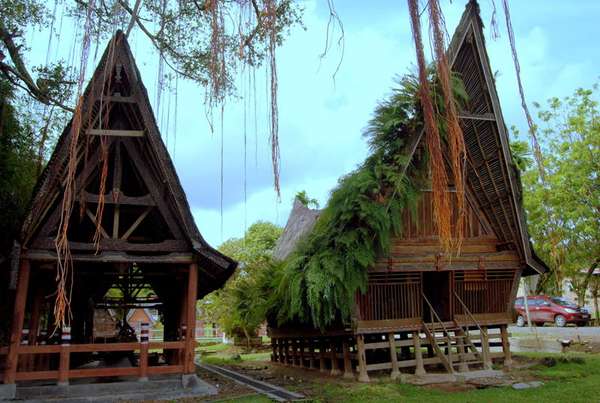 North Sumatra isn't only about Toba Lake and Batak Tribe. The island also holds some historical sites like Hutabolon Museum. It is a well-known tourist spot in Simanindo Village. You can reach it by visiting Samosir Regency. What makes the museum popular? Actually, it was a traditional house. Also, it is the inheritance of Sidauruk King. The government turned this house into a museum in 1969. The museum is surrounded by several traditional houses. It features some reminiscences of Batak tradition. These include Solu Bolon (a traditional boat), tunggal panaluan, and much more.
About Hutabolon Museum
As mentioned earlier, it was the home of a Batak king. This man was recognized due to his interest in women. In fact, he had more than 10 wives. The museum has a unique appearance. You can see ten buffalo horns on its roof. Not only these act as a decoration, but the horns represent the 10 dynasty generations in Batak. Tourists won't get disappointed by its majestic structure. Not to mention the museum offers unique and historical items. In a nutshell, it is suitable for a family vacation.
The gate features shady and calming trees. You will be amazed by the atmosphere. Near to it, you are able to find a cemetery. So, what is inside Hutabolon Museum? You can see weapons, sculptures, traditional carvings, cooking tools, and many others. These items were the inheritances of Batak ancient society. If you come at the right time, you can enjoy several dance performances. Thus, you must make sure to find out the schedule prior to visiting the museum.
Hutabolon Museum opens daily from 9 am to 5 pm. It is a suitable place for learning Batak's traditional items and history. The most famous item is tungkot. It had numerous functions back then. The locals mostly used it for fighting. Though, it was also used for performing black magics. According to the locals, tungkot had the capability to tell the future. The next famous item is Tarombo. It is actually the family tree of Batak Tribe. There are many things to see in the museum, so you won't get bored.
If you want to enjoy dance performances, you should learn the schedule. Usually, it is performed before the mid-day. Don't come on Sunday as there are no performers here. These are the signature dances of Batak. That means you can enjoy Sigale-Gale Dance, Muda-Mudi, Persembahan Dance, etc. The performers will do their job if there are many people come to Hutabolon Museum. Otherwise, they choose to perform somewhere else.
How to Get There
Hutabolon Museum is located in Simanindo Village. From Medan, you need to head to Samosir. It is quite easy to reach the museum. During the trip to the village, you will pass through beautiful scenery. If you come from Tomok, you need to spend about 10 km. It will be longer from Pangururan. One thing, Simanindo is a quiet village. You shouldn't expect a crowded atmosphere here. Don't forget to bring some money. Why? It is because you need to pay the ticket for entering the museum.

Latest News
Lake Toba is indeed a favorite tourist destination when visiting North Sumatra. The charm of beauty offered in this lake area is indeed never ending to be explored. One of them is the uniqueness of the 'lake above the lake'. This nickname is familiar to local people and tourists when mentioning Lake Sidihoni, which is in the Lake Toba area. This lake is located on Samosir Island, which is an island in the middle of Lake Toba. That's why, this lake nicknamed is the 'lake above the lake'. Here are…
---
For those of you who come to Nias Island for your next vacation, it is better to find information about attractions that were previously available. As for reference, the beautiful beach is in West Nias Regency named Sirombu. Usually tour agents will recommend this place to locals and foreigners. The reason is none other than the sunset view. In addition, Sirombu Beach is also equipped with amazing facilities and surroundings. Not surprisingly, many people consider it the best vacation spot in West Nias Regency. It is true that Sirombu Beach…
---
What makes Indonesia is a worthy vacation destination? Many travelers are impressed by nature beauty of the country. Moreover, there is a famous tourist spot in North Sumatra Province, which is called Toba Lake. Being the biggest lake in Indonesia, Toba becomes the signature tourism in Sumatra Island. It is because the flawless nature and pristine water would satisfy all visitors. People come to the lake to enjoy a family recreation, sightseeing, photography, and exploration. The fact is many different tourist spots are scattered around the lake. Tourists can explore…
---
Bohorok Rehabilitation Center Bohorok Rehabilitation Center is a shelter for Orangutan in Sumatra that settled in Bukit Lawang. Bukit Lawang is one of the top destinations in Sumatra; Bukit Lawang is a small village on the edge of Gunung Leuser National Park in North Sumatra. Situated around 90 km north-west of Medan along the clear Bohorok River and on the outskirts of the tropical rainforest. As we know, The Gunung Leuser National Park is also one of the homes to Orangutan that spread in entire Sumatra Island. Thomas Leaf monkeys, Black Gibbons, White…
---