Visiting a Hot Spring in Samosir Island
---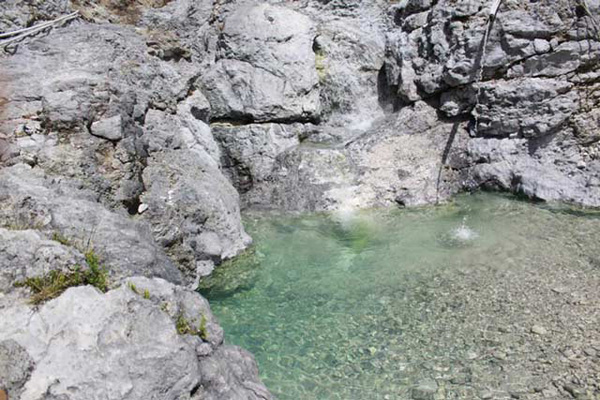 Samosir Island has many interesting vacation destinations. If you look for a relaxing holiday, you should visit a hot spring. It is situated in Pusuk Buhit Mountain. That means you can enjoy both solemn ambiance of the mountain and this comfortable spring at once. Local people call it Aek Rangat. Due to its popularity, both local and foreign tourists often come to this location. The hot spring is famous for its healing effects. The locals believe they can get rid of diseases with the water.
About the Hot Spring
The water comes from the mountain. Actually, it is sulfur water. It is both warm and refreshing. The color is white gray. The hot spring has become a public bathing place now. It features a majestic mountain and beautiful nature. The locals take a good care of this tourist spot. Aek Rangat becomes more popular over time. There are several pools available. The pools contain sulfur water, which is coming from the mountain. However, local people mix it with pure water. This way, it may reduce the temperature so tourists can take a bath comfortably.
As mentioned before, there are several ponds to choose. Each of them offers distinct temperature. That means you can either pick warm or hot water. Not to mention there are some special ponds for kids and women. For kids, the ponds are shallow and warm. This way, the children can be comfortable when taking bath in the pond. Therefore, you should ask the manager regarding the ponds. Make sure you choose the right one. Otherwise, it will be quite uncomfortable.
The warm sulfur water is quite refreshing. It is said that it can heal skin diseases and pains. Once you enjoy a good time in Aek Rangat, you can visit nearby eateries. The best menu is Gomak Noodle. There are many options of snacks, though. As for the drink, you can order a milk tea with eggs. Local people call it TST. Next, you can take pictures of the mountain. It features beautiful hill scenery, after all. Not to mention it is famous for its secrecy.
For beginners, you should know several things before going to Aek Rangat. For example, you shouldn't use soap while bathing in the pond. Why is that? It will be useless. The soap won't work in sulfur water. The hot spring contains natural minerals like sulfur and sulfide. The soap contains surfactants and these will be useless in sulfur water. As an alternative, you only need to use a cloth or towel to wash your body.
How to Get There
It is easy to reach Aek Rangat. From Medan, you should head to Panguruan City. That means you must cross the lake using a ferry. Once you reach Tomok or Tuktuk, you can directly go to Pusuk Buhit Mountain. It takes about 2-3 hours by a local vehicle. During the trip to the hot spring, you can enjoy beautiful pine forest and green hills. In Pusuk Buhit, you can ask local people regarding the location of the hot spring. Don't forget to pay the ticket.

Latest News
Lake Toba is indeed a favorite tourist destination when visiting North Sumatra. The charm of beauty offered in this lake area is indeed never ending to be explored. One of them is the uniqueness of the 'lake above the lake'. This nickname is familiar to local people and tourists when mentioning Lake Sidihoni, which is in the Lake Toba area. This lake is located on Samosir Island, which is an island in the middle of Lake Toba. That's why, this lake nicknamed is the 'lake above the lake'. Here are…
---
For those of you who come to Nias Island for your next vacation, it is better to find information about attractions that were previously available. As for reference, the beautiful beach is in West Nias Regency named Sirombu. Usually tour agents will recommend this place to locals and foreigners. The reason is none other than the sunset view. In addition, Sirombu Beach is also equipped with amazing facilities and surroundings. Not surprisingly, many people consider it the best vacation spot in West Nias Regency. It is true that Sirombu Beach…
---
What makes Indonesia is a worthy vacation destination? Many travelers are impressed by nature beauty of the country. Moreover, there is a famous tourist spot in North Sumatra Province, which is called Toba Lake. Being the biggest lake in Indonesia, Toba becomes the signature tourism in Sumatra Island. It is because the flawless nature and pristine water would satisfy all visitors. People come to the lake to enjoy a family recreation, sightseeing, photography, and exploration. The fact is many different tourist spots are scattered around the lake. Tourists can explore…
---
Bohorok Rehabilitation Center Bohorok Rehabilitation Center is a shelter for Orangutan in Sumatra that settled in Bukit Lawang. Bukit Lawang is one of the top destinations in Sumatra; Bukit Lawang is a small village on the edge of Gunung Leuser National Park in North Sumatra. Situated around 90 km north-west of Medan along the clear Bohorok River and on the outskirts of the tropical rainforest. As we know, The Gunung Leuser National Park is also one of the homes to Orangutan that spread in entire Sumatra Island. Thomas Leaf monkeys, Black Gibbons, White…
---