The Uniqueness of Aek Sipitu Dai Fountain, Samosir Island
---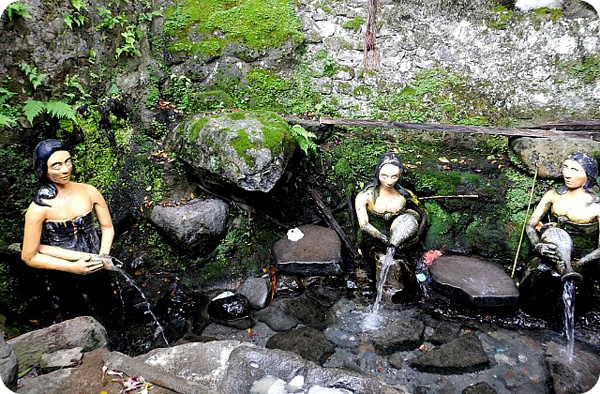 Each tourist attraction is unique. If you visit Samosir Island, you can enjoy many interesting charms. For example, there is Aek Sipitu Dai Fountain. The name means the fountain of 7 sensations. It is located in Sianjur Mula-mula District, Pangururan. As the name suggests, it features 7 different fountains. Each of them has a unique taste. They are situated in the same location beside the Jabi-Jabi tree. These fountains attract many visitors every day. In fact, some foreigners come here during holidays.
Aek Sipitu Dai Fountain is a Holy Place
A unique part of Aek Sipitu Dai Fountain is its flavor. All of the fountains don't have a regular water taste. Even though they come from a single source, they taste differently. The rumor has it. If you take the water to other location, it loses its taste. That means the water becomes tasteless. The same result happens if you bring the water to unblessed places. No one knows the reason. Many people consider it as a blessed fountain. They believe it has some mystical powers.
The locals often come here for a blessing. It is said that the tap water is able to heal numerous diseases. According to local people, the Debata Mula Jadi Nobolon may grant any wishes for those who pray in the fountain. Due to this belief, many visitors pray for wealth and health. In fact, many of them have proven its efficacy. Aek Sipitu Dai Fountain is well-known both among local and foreigners. Tourists want to witness its uniqueness with their own eyes.
Aek Sipitu Dai Fountain also becomes a heritage of Batak Toba culture. In fact, it is the part of local legend. The fountain is situated under a sacred and dense tree. As mentioned earlier, there are 7 taps with different taste. In fact, local people use them for different purposes. The first tap is called Aek Poso. Women often use it to bathe their toothless kids. The second tap is often used by infertile women. It is said the water can increase the chance of getting an offspring.
The third tap is used by young women. They want to retain their fertility and beauty. The fourth tap is called Paridian Sibaso. It is used mostly by pregnant women. The rumor has it. The water will bless women's pregnancy and labor. The fifth tape is called Paridian Pangulu. It is mostly used by old men. The sixth tap is called Paridian Doli-Doli. It is meant for young men. Another tap is called Paridian Hela. It is used by men who marry a woman of Guru Tatea Bulan's descendants.
How to Get There
Aek Sipitu Dai is located in Sianjur Mula-Mula District. It is near to Efrata Waterfall. No worries. You can reach it without hassles. Thanks to the street signs. From Medan, your first checkpoint is Kebanjahe. From here, you need to head to Sidikalang. Once you reach Simpang Tele, you must turn left. Follow Dolok Sanggul-Sidikalang Street until you find another Simpang Tele. This is the last trip as you can directly head to Aek Sipitu Dai. Many hotels are available nearby. This includes Tiga Besar Hotel.

Latest News
Lake Toba is indeed a favorite tourist destination when visiting North Sumatra. The charm of beauty offered in this lake area is indeed never ending to be explored. One of them is the uniqueness of the 'lake above the lake'. This nickname is familiar to local people and tourists when mentioning Lake Sidihoni, which is in the Lake Toba area. This lake is located on Samosir Island, which is an island in the middle of Lake Toba. That's why, this lake nicknamed is the 'lake above the lake'. Here are…
---
For those of you who come to Nias Island for your next vacation, it is better to find information about attractions that were previously available. As for reference, the beautiful beach is in West Nias Regency named Sirombu. Usually tour agents will recommend this place to locals and foreigners. The reason is none other than the sunset view. In addition, Sirombu Beach is also equipped with amazing facilities and surroundings. Not surprisingly, many people consider it the best vacation spot in West Nias Regency. It is true that Sirombu Beach…
---
What makes Indonesia is a worthy vacation destination? Many travelers are impressed by nature beauty of the country. Moreover, there is a famous tourist spot in North Sumatra Province, which is called Toba Lake. Being the biggest lake in Indonesia, Toba becomes the signature tourism in Sumatra Island. It is because the flawless nature and pristine water would satisfy all visitors. People come to the lake to enjoy a family recreation, sightseeing, photography, and exploration. The fact is many different tourist spots are scattered around the lake. Tourists can explore…
---
Bohorok Rehabilitation Center Bohorok Rehabilitation Center is a shelter for Orangutan in Sumatra that settled in Bukit Lawang. Bukit Lawang is one of the top destinations in Sumatra; Bukit Lawang is a small village on the edge of Gunung Leuser National Park in North Sumatra. Situated around 90 km north-west of Medan along the clear Bohorok River and on the outskirts of the tropical rainforest. As we know, The Gunung Leuser National Park is also one of the homes to Orangutan that spread in entire Sumatra Island. Thomas Leaf monkeys, Black Gibbons, White…
---