A Nature Retreat in Desa Limbong, North Sumatra
---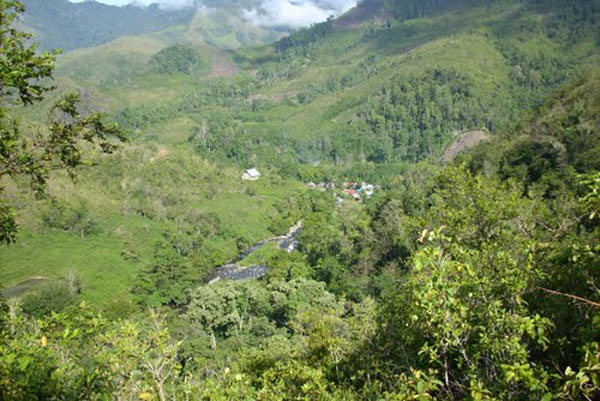 North Sumatra and Toba Lake are inseparable. Though, that doesn't mean you only one vacation destination. In Samosir, you can find many stunning villages. Recently, Limbong Village attracts lots of visitors. What is good about it? First, it features many nature beauties. These include Toba Lake, hills, mountains, shady trees, and much more. Next, it offers many vacation spots. Once you reach Limbong, you have many options to do. It can be as simple as relaxing near to the lake. In a nutshell, the village gives you a calming atmosphere.
Visiting Famous Attractions in Limbong Village
Samosir is part of paradise. It offers many beauties like Limbong Village. From here, you are able to enjoy the beautiful setting of Toba Lake. The village also features many tourist spots. Have you heard Efrata Waterfall? It is one of Limbong's attractions. It is actually a hidden waterfall and it is situated between the hills. However, you must spend much time to reach this beautiful attraction. The path isn't quite smooth, after all. No worries. It will be a worthy adventure.
Limbong Village can be a great landscape for photography. Therefore, you should bring your camera. The rice fields and shady trees are great objects. Make sure that you talk to the locals regarding some hot spots in Limbong. They may guide you with it. If you aren't able to reach some spots for photography, you can utilize a drone. The result will be better as you can reach difficult spots or objects. As an alternative, you can take pictures from a higher land. It gives you better results, for sure.
The next attraction in Limbong Village is Aek Sipitudai. It is considered as a sacred place. Local government even makes it a religious tour destination for everyone. Not to mention you can learn some mystical stories from the locals. What is Aek Sipitudai, actually? It is a fountain, which has different tastes. Local people give a huge respect to the fountain because it is the natural inheritance of Batak's folklore. The location is beneath Pusuk Buhit Mountain. Not to mention the mountain is considered sacred.
What's next? It is the local culinary. Make sure you try some traditional foods of Batak. One of them is Dengke Mas Na Niura. It is actually local carp. Bataknese uses a secret recipe to make a tasty and flavorsome raw carp. That means it doesn't undergo any cooking process. It becomes one of the best foods in North Sumatra. In Limbong, you can eat it in local eateries. If you are lucky, you will be invited by the locals for dinner.
How to Get There
Limbong Village is located in Samosir Island. That means you need to cross Toba Lake in order to reach Limbong. From Medan, you can use a car or a public bus. The trip to Samosir also features a boat. That means you need to pay the ferry. Limbong has many tourist spots. If you have no references, you can hire local people as a guide. Though, you need to prepare some money for it.

Latest News
Lake Toba is indeed a favorite tourist destination when visiting North Sumatra. The charm of beauty offered in this lake area is indeed never ending to be explored. One of them is the uniqueness of the 'lake above the lake'. This nickname is familiar to local people and tourists when mentioning Lake Sidihoni, which is in the Lake Toba area. This lake is located on Samosir Island, which is an island in the middle of Lake Toba. That's why, this lake nicknamed is the 'lake above the lake'. Here are…
---
For those of you who come to Nias Island for your next vacation, it is better to find information about attractions that were previously available. As for reference, the beautiful beach is in West Nias Regency named Sirombu. Usually tour agents will recommend this place to locals and foreigners. The reason is none other than the sunset view. In addition, Sirombu Beach is also equipped with amazing facilities and surroundings. Not surprisingly, many people consider it the best vacation spot in West Nias Regency. It is true that Sirombu Beach…
---
What makes Indonesia is a worthy vacation destination? Many travelers are impressed by nature beauty of the country. Moreover, there is a famous tourist spot in North Sumatra Province, which is called Toba Lake. Being the biggest lake in Indonesia, Toba becomes the signature tourism in Sumatra Island. It is because the flawless nature and pristine water would satisfy all visitors. People come to the lake to enjoy a family recreation, sightseeing, photography, and exploration. The fact is many different tourist spots are scattered around the lake. Tourists can explore…
---
Bohorok Rehabilitation Center Bohorok Rehabilitation Center is a shelter for Orangutan in Sumatra that settled in Bukit Lawang. Bukit Lawang is one of the top destinations in Sumatra; Bukit Lawang is a small village on the edge of Gunung Leuser National Park in North Sumatra. Situated around 90 km north-west of Medan along the clear Bohorok River and on the outskirts of the tropical rainforest. As we know, The Gunung Leuser National Park is also one of the homes to Orangutan that spread in entire Sumatra Island. Thomas Leaf monkeys, Black Gibbons, White…
---