Batu Hobon as Batak's Valuable Cultural Heritage
---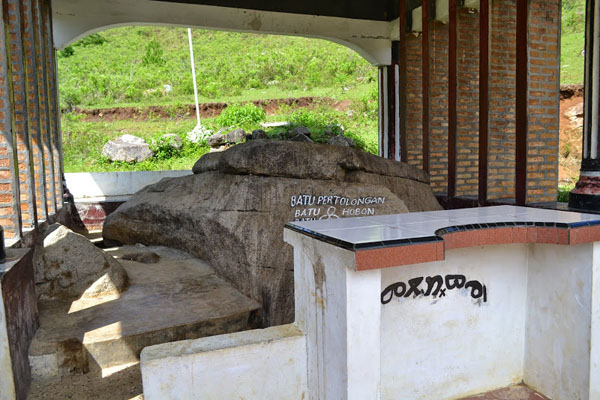 Samosir Island has a distinct beauty. It attracts families, photographers, couples, foreigners, and any types of tourists. With its rich culture, Samosir becomes a potential vacation destination. It is also rich in history. One of the best attractions is Batu Hobon. What is it? It is a place to store some reminiscences of Batak King. Tourists consider it as a museum/box. Regardless of the purpose, it has been attracting more visitors to Samosir. You can even learn a history from it.
About Batu Hobon
Batu Hobon is located in Limbong Village. It is the part of Sianjur District and Samosir Regency. It is actually has a good access. Everyone can reach it easily. Thanks to the street signs. The main attraction is the story behind it. According to the locals, Batu Hobon was given by King Uti. The purpose was to store Bataknese's wealth. These include musical instruments and relics. Also, it is said that the museum becomes the house of Lak-Lak. It is a kind of holy book and it teaches local values of Batak culture.
There are numerous types of items stored in Batu Hobon. You can even find Pagar. It is an ancient potion to repel diseases. The other items are a sacred sword (Piso Solom Debata), a magical ring (Tintin Sipajadi-jadi), and much more. All of them are stored safely in the museum. It is likely local people take a good care of this place. They believe more visitors may come here in the near future. It is also possible to take some pictures of these items. Make sure you have had the permission.
The rumor has it. King Uti remains in this world and he will take back these items someday. Not all tourists believe this folklore, but it is a worthy story to know. It is also said that no one can open the storage. It may open someday when Batak Tribes need a stronger reason to unite. Not to mention Batu Hobon is located near to "Rumah Kesaktian Si Raja Batak". That means you can also visit this tourist spot easily.
Batu Hobon is suitable for families and historians. If you come with your kids, you can teach them about the value of this place. What's more? The museum is situated near to stunning scenery. In fact, it is surrounded by green meadow. What a soothing atmosphere! Also, it is enclosed by hills. No wonder, the temperature is refreshing. Once you explore the museum, you can simply sit outside and enjoy the breeze of the wind and the beauty of nature.
How to Get There
Batu Hobon is located in Limbong Sagala Village. From Medan, you need to head to Sianjur Mula-Mula. If you don't have a private car, you can use public transportation from Samosir. It takes about 2-3 hours. You shouldn't expect many tourists here. Batu Hobon isn't quite popular among foreigners. Most of the visitors are locals and nearby tourists. You don't even need to pay the entry fee. It is better to come with families or friends, so you can share your experience.

Latest News
Lake Toba is indeed a favorite tourist destination when visiting North Sumatra. The charm of beauty offered in this lake area is indeed never ending to be explored. One of them is the uniqueness of the 'lake above the lake'. This nickname is familiar to local people and tourists when mentioning Lake Sidihoni, which is in the Lake Toba area. This lake is located on Samosir Island, which is an island in the middle of Lake Toba. That's why, this lake nicknamed is the 'lake above the lake'. Here are…
---
For those of you who come to Nias Island for your next vacation, it is better to find information about attractions that were previously available. As for reference, the beautiful beach is in West Nias Regency named Sirombu. Usually tour agents will recommend this place to locals and foreigners. The reason is none other than the sunset view. In addition, Sirombu Beach is also equipped with amazing facilities and surroundings. Not surprisingly, many people consider it the best vacation spot in West Nias Regency. It is true that Sirombu Beach…
---
What makes Indonesia is a worthy vacation destination? Many travelers are impressed by nature beauty of the country. Moreover, there is a famous tourist spot in North Sumatra Province, which is called Toba Lake. Being the biggest lake in Indonesia, Toba becomes the signature tourism in Sumatra Island. It is because the flawless nature and pristine water would satisfy all visitors. People come to the lake to enjoy a family recreation, sightseeing, photography, and exploration. The fact is many different tourist spots are scattered around the lake. Tourists can explore…
---
Bohorok Rehabilitation Center Bohorok Rehabilitation Center is a shelter for Orangutan in Sumatra that settled in Bukit Lawang. Bukit Lawang is one of the top destinations in Sumatra; Bukit Lawang is a small village on the edge of Gunung Leuser National Park in North Sumatra. Situated around 90 km north-west of Medan along the clear Bohorok River and on the outskirts of the tropical rainforest. As we know, The Gunung Leuser National Park is also one of the homes to Orangutan that spread in entire Sumatra Island. Thomas Leaf monkeys, Black Gibbons, White…
---