Sipiso-piso Hill a.k.a Bukit Gundul in Karo Regency
---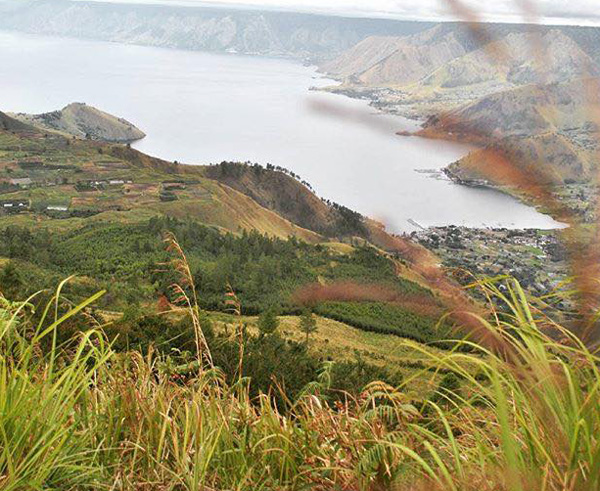 Have you ever heard Sipiso-piso Hill? Well, it is another pride of Karo Regency, Samosir. Some tourists have been familiar with Sipiso-piso Waterfall. However, this hill can be another vacation destination for everyone. It is famous for its beautiful scenery and comfortable atmosphere. Visitors come here for relaxing. Due to these reasons, you must visit both the waterfall and the hill when visiting Karo. Even though it is located a little bit far from Medan, you can enjoy the trip well. Thanks to beautiful sceneries and refreshing temperature.
A Majestic Hill
Sipiso-piso Hill is unique. Why is that? The trees grow only on the top of the hill. Due to this reason, local people also call it Bukit Gundul (Bald Hill). It takes both time and energy to reach the summit. Though, it is worth the effort. Once you reach the top of it, you can enjoy the flawless scenery. It also features Toba Lake views and some magnificent mountains like Pusuk Buhit and Sibuaten. There are limitless attractions. What you should do is to reach the top of the hill.
There is a camping ground below. You can even find some abandoned cottages. Despite the bad conditions, the cottages become a great place for relaxing. There is also a concealed toilet nearby. The camping ground is your first checkpoint before reaching Sipiso-piso Hill. Your trip is going to be rough. There are many hays ahead. No worries. You may enjoy this experience. For those who love camping, it is better to carry the equipment. The hill is a perfect location for such activity.
If you don't like trekking, you can use a motorcycle. It is much faster and comfortable, for sure. Once you reach the summit, you can simply sit and witness the jaw-dropping scenery. It is combined with an uplifting atmosphere. The best time to visit the hill is either during sunrise or sunset. A camera should be your primary equipment. There are many beautiful landscapes and objects. You can make them a perfect photography background.
As mentioned earlier, Karo Regency also has the famous Sipiso-piso Waterfall. Once you enjoy beautiful views on the hill, you should visit this uplifting falls. The location is near to Tongging Village. The height is about 120 meters. The waterfall is surrounded by pine trees so it gives a comforting sensation to visitors. Not to mention the water is fresh. Due to its popularity, Karo becomes a great place for tourists. In fact, it features nearby attractions like Sipiso-piso Hill.
How to Get There
In order to reach Sipiso-piso Hill, you must spend a few hours from Medan. It is about 80 km. Even though it is a tiring trip, you will be astonished by its beautiful scenery. What you need is to head to the gate of the hill. Not to mention you need to pass through Berastagi lane. Once you reach the location, you can directly head to the camping ground. If you want to reach the hill, you should spend a few minutes of walking.