Aritonang Monument in Muara, North Tapanuli
---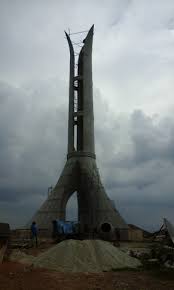 Muara becomes a popular vacation destination, recently. It offers both unique culture and beauty. There is also an iconic landmark called Aritonang Monument. It becomes a symbol of culture richness. Local government wants to make it as an interesting tourist spot near to Toba Lake. Also, the monument acts as a symbol of clan unity. It represents the harmony between numerous clans such as Rajaguguk, Oppusunggu, and Tuan Simare. In fact, all these clans were involved during the construction of the monument.
How famous is the Aritonang Monument?
Today, Aritonang Monument attracts more tourists. It is the pride of Aritonang clan. Visitors are able to take a close look at this majestic monument. It is located on the hill. That means tourists can even notice it from afar. The monument features a white color and a unique shape. The height is about 30 meters. The top of the monument is similar to a peeled banana. The monument has more than 2 feet. The levels represent the clans, which are Tuan Simare, Oppusunggu, and Rajaguguk. It shows how solid the local society is.
Apart from its meaning, the Aritonang Monument also holds a unique history. Tourists are attracted to it. Visitors can learn the value of the monument from the locals. The monument was built for many reasons. One of them is to respect the ancestors. It also becomes a symbol of self-reflection. It teaches how people should get along well with each other and praise the God. Overall, these values of the monument become a unique attraction for tourists. It is also the part of Aritonang culture, after all.
Tourists also come to Aritonang Monument for photography. Some professional photographers would love to take some pictures of the monument. They consider it as a unique object. The thing is there are numerous ideas for photography. Mostly, tourists take selfies in front of the monument. They can also add some effects to it. As long as there is no rain, the monument is suitable for photography. They don't have to be a professional photographer. Even beginners can take advantage of the monument as their object.
Another activity is drawing. Some tourists come to Aritonang Monument for relaxing. They simply sit near to the monument and draw it in their sketchbook. It is a wonderful monument, after all. Only foreign visitors are attracted to do this. They want to see and explore the details of the monument directly. It helps them grow better skills in drawing. Regardless of the purpose, more visitors come to the monument. Muara will definitely become a new famous tourist attraction in North Tapanuli.
How to Get There
Aritonang Monument is located in Aritonang or Dolok Ambar Village. It actually belongs to Muara district. From Medan, you should take a public transportation. It takes about 2-3 hours of driving. The best choice is a rented car. It is recommended to hire a local driver. He will help you get around the village and visit the monument. One thing, you must prepare more money to pay the driver.

Latest News
Lake Toba is indeed a favorite tourist destination when visiting North Sumatra. The charm of beauty offered in this lake area is indeed never ending to be explored. One of them is the uniqueness of the 'lake above the lake'. This nickname is familiar to local people and tourists when mentioning Lake Sidihoni, which is in the Lake Toba area. This lake is located on Samosir Island, which is an island in the middle of Lake Toba. That's why, this lake nicknamed is the 'lake above the lake'. Here are…
---
For those of you who come to Nias Island for your next vacation, it is better to find information about attractions that were previously available. As for reference, the beautiful beach is in West Nias Regency named Sirombu. Usually tour agents will recommend this place to locals and foreigners. The reason is none other than the sunset view. In addition, Sirombu Beach is also equipped with amazing facilities and surroundings. Not surprisingly, many people consider it the best vacation spot in West Nias Regency. It is true that Sirombu Beach…
---
What makes Indonesia is a worthy vacation destination? Many travelers are impressed by nature beauty of the country. Moreover, there is a famous tourist spot in North Sumatra Province, which is called Toba Lake. Being the biggest lake in Indonesia, Toba becomes the signature tourism in Sumatra Island. It is because the flawless nature and pristine water would satisfy all visitors. People come to the lake to enjoy a family recreation, sightseeing, photography, and exploration. The fact is many different tourist spots are scattered around the lake. Tourists can explore…
---
Bohorok Rehabilitation Center Bohorok Rehabilitation Center is a shelter for Orangutan in Sumatra that settled in Bukit Lawang. Bukit Lawang is one of the top destinations in Sumatra; Bukit Lawang is a small village on the edge of Gunung Leuser National Park in North Sumatra. Situated around 90 km north-west of Medan along the clear Bohorok River and on the outskirts of the tropical rainforest. As we know, The Gunung Leuser National Park is also one of the homes to Orangutan that spread in entire Sumatra Island. Thomas Leaf monkeys, Black Gibbons, White…
---