Paragliding in Partukko Naginjang, Martahan Janji Village
---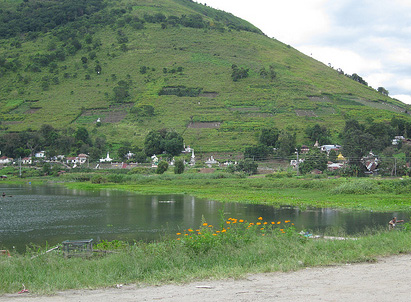 A vacation should be unforgettable and interesting. If you visit North Sumatra, you must go to Martahan Janji Village. There is a famous spot called Partukko Naginjang. What is it, exactly? Many tourists recognize it as the best place for outdoor activities. It is the landing point for paragliding activity. Most of the visitors come from Harian Boho District. However, it has been attracting many tourists from other cities. Sometimes, foreigners also come here to enjoy the nature. It is easy to make an appointment with the organizer. That means everyone is allowed to try paragliding sports.
Visiting Partukko Naginjang
In terms of appearance, Partukko Naginjang is quite simple. Though, it features numerous natural attractions and beautiful scenes. The temperature can be quite cold during the rainy season. Therefore, the best time to come to Martahan Janji Village is in summer. It is perfect for paragliding, after all. Not to mention there are more visitors in holidays. It is better to make a reservation beforehand, so you can get reassured to do such extreme sports. If you don't like paragliding, you can simply get around the village and enjoy its nature.
Even though paragliding seems a perfect activity during a holiday, it can be quite hazardous. Beginners should obey the instructions. Another consideration is the money. It costs much money, so you must be prepared. Fortunately, you don't need to carry a paraglider kit. It is because the organizer may provide it for you. You can rent the equipment and kit from them. Make sure you talk to them regarding your weight, health conditions, and other personal information. This helps you prevent unwanted events while paragliding.
Partukko Naginjang becomes a landing point for paragliding. Why is that? It is due to its vast and safe land. Paragliders are able to do it safely, regardless of experience. Are you interested? Paragliding is actually safer than other life-threatening sports. It will be an unforgettable experience. You can fly in the air while enjoying nature views. Next, you can decrease height over time so you reach the ground smoothly. For many, it is a new experience. With a proper instruction, everyone can do it.
Many tourists also come conduct paragliding for maintaining their physical and mental condition. Partukko Naginjang is definitely a great place to do it. Most of you don't like workout routines. Paragliding can be the best choice. It relieves both stresses and burdens. Recently, local government has conducted a competition in Martahan Janji Village. Though, only Indonesia paragliders are allowed to join it. As an alternative, you can visit nearby attractions like Siulak Hosa and Toba Lake festivals.
How to Get There
The trip takes about 5 hours from Medan. Actually, it takes about 185 km through Sidikalang Street. It can be faster without traffic, though. From Medan City, you need to take Sei Deli Street to Bulu Tangkis Street to Sidikalang. Once you reach Partuko Naginjang, you can directly head to your destination, which is Janji Martahan Village. No worries. It will be a comfortable trip. Make sure you use the right vehicle!

Latest News
Lake Toba is indeed a favorite tourist destination when visiting North Sumatra. The charm of beauty offered in this lake area is indeed never ending to be explored. One of them is the uniqueness of the 'lake above the lake'. This nickname is familiar to local people and tourists when mentioning Lake Sidihoni, which is in the Lake Toba area. This lake is located on Samosir Island, which is an island in the middle of Lake Toba. That's why, this lake nicknamed is the 'lake above the lake'. Here are…
---
For those of you who come to Nias Island for your next vacation, it is better to find information about attractions that were previously available. As for reference, the beautiful beach is in West Nias Regency named Sirombu. Usually tour agents will recommend this place to locals and foreigners. The reason is none other than the sunset view. In addition, Sirombu Beach is also equipped with amazing facilities and surroundings. Not surprisingly, many people consider it the best vacation spot in West Nias Regency. It is true that Sirombu Beach…
---
What makes Indonesia is a worthy vacation destination? Many travelers are impressed by nature beauty of the country. Moreover, there is a famous tourist spot in North Sumatra Province, which is called Toba Lake. Being the biggest lake in Indonesia, Toba becomes the signature tourism in Sumatra Island. It is because the flawless nature and pristine water would satisfy all visitors. People come to the lake to enjoy a family recreation, sightseeing, photography, and exploration. The fact is many different tourist spots are scattered around the lake. Tourists can explore…
---
Bohorok Rehabilitation Center Bohorok Rehabilitation Center is a shelter for Orangutan in Sumatra that settled in Bukit Lawang. Bukit Lawang is one of the top destinations in Sumatra; Bukit Lawang is a small village on the edge of Gunung Leuser National Park in North Sumatra. Situated around 90 km north-west of Medan along the clear Bohorok River and on the outskirts of the tropical rainforest. As we know, The Gunung Leuser National Park is also one of the homes to Orangutan that spread in entire Sumatra Island. Thomas Leaf monkeys, Black Gibbons, White…
---