Sipinsur Tourist Spot in Humbang Hasundutan District, North Sumatra
---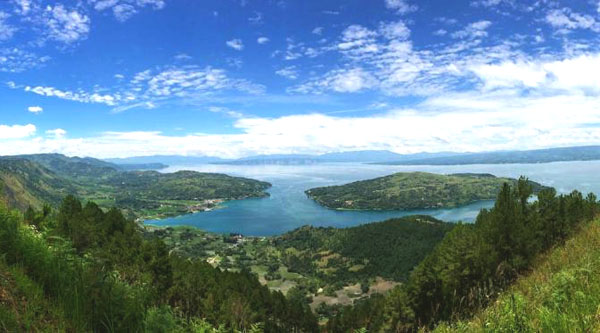 A vacation in North Sumatra Province would be quite memorable. Why is that? Visitors can explore different tourist spots there, including Sipinsur. It is a famous site for sightseeing and family recreation, actually. The location is in Humbang Hasundutan District and it is famous for its unspoiled nature views. It takes some efforts to reach the location, but the trip is rewarding. Not to mention the site is crowded during weekends and holidays. Even foreigners are seen sometimes. Most of them come to enjoy photography and relaxation. It is considered the best spot to witness Toba Lake from above, as well.
The Nuance
When it is about the size, Sipinsur has the height of 1213 above sea level and the width of 2 hectares. From the location, tourists can see beautiful views of Toba Lake and Samosir Island clearly. Also, it is even possible to witness Sibandang Island and Muara Town from there. The fact is Sipinsur resides in a land that is owned by the local government. That means the condition and facilities are clean and satisfying. There are guard posts, children playground, stands, and jogging tracks. Several hills are also available for tourists to explore.
Exploring Sipinsur Tourist Spot
As mentioned before, Sipinsur becomes the right site for relaxation. Tourists are able to eradicate stresses once they visit the location. It is because they can see lush pine trees and feel the rejuvenating wind. The sky is blue and the clouds are beautiful! Moreover, a view of Toba Lake appears stunning and mesmerizing. For those who love challenging activities, they can conduct trekking on the nearby hills. The views are even better from the top of those hills. As for the tip, they need to wear comfortable footwear and carry bottled water during trekking.
The next popular activity is photography. No wonder, almost all visitors carry a camera or smartphone. They won't miss the chance to take beautiful pictures of nature scenery like Toba Lake, boats, trees, sunset, and much more. Selca is a good idea, as well. Also, some couples take advantage of the peaceful nuance to build their relationship and create beautiful memories there. At the dusk, the best attraction is definitely the sunset. Its color is orange and the nuance is romantic! No one should miss such moment!
Here is the next idea. Tourists should try a local signature dish, which is called Gomak Noodle. Such delicious cuisine comes with numerous ingredients like eggs, rice cakes, and mouthwatering local seasonings. It is a suitable option for breakfast, actually. So, where can visitors get it? If they are lucky, some villagers may offer it freely. If not, they can simply head to a nearby eatery and buy some delicious local foods, including Gomak. The price is affordable, after all.
Nearby Attractions
Lumban Sitabunan Cave
Janji Waterfall
Sisingamangaraja Palace
Sipulak Waterfall
How to Get There
To be exact, Sipinsur Tourist Spot is located in Paerung Village, Paranginan Sub-district. From Medan, the trip takes about 6-7 hours and the distance is 227 km. When it comes to the best route, travelers can take Sidikalang-Medang Street and Lintas Barat Sumatra Street. As an alternative, they can take an airplane and head to Silangit Airport. Sipinsur is located near to it, after all.
Where to Stay
New Horas Hotel
Asima Hotel
Grand Maju Hotel

Latest News
Lake Toba is indeed a favorite tourist destination when visiting North Sumatra. The charm of beauty offered in this lake area is indeed never ending to be explored. One of them is the uniqueness of the 'lake above the lake'. This nickname is familiar to local people and tourists when mentioning Lake Sidihoni, which is in the Lake Toba area. This lake is located on Samosir Island, which is an island in the middle of Lake Toba. That's why, this lake nicknamed is the 'lake above the lake'. Here are…
---
For those of you who come to Nias Island for your next vacation, it is better to find information about attractions that were previously available. As for reference, the beautiful beach is in West Nias Regency named Sirombu. Usually tour agents will recommend this place to locals and foreigners. The reason is none other than the sunset view. In addition, Sirombu Beach is also equipped with amazing facilities and surroundings. Not surprisingly, many people consider it the best vacation spot in West Nias Regency. It is true that Sirombu Beach…
---
What makes Indonesia is a worthy vacation destination? Many travelers are impressed by nature beauty of the country. Moreover, there is a famous tourist spot in North Sumatra Province, which is called Toba Lake. Being the biggest lake in Indonesia, Toba becomes the signature tourism in Sumatra Island. It is because the flawless nature and pristine water would satisfy all visitors. People come to the lake to enjoy a family recreation, sightseeing, photography, and exploration. The fact is many different tourist spots are scattered around the lake. Tourists can explore…
---
Bohorok Rehabilitation Center Bohorok Rehabilitation Center is a shelter for Orangutan in Sumatra that settled in Bukit Lawang. Bukit Lawang is one of the top destinations in Sumatra; Bukit Lawang is a small village on the edge of Gunung Leuser National Park in North Sumatra. Situated around 90 km north-west of Medan along the clear Bohorok River and on the outskirts of the tropical rainforest. As we know, The Gunung Leuser National Park is also one of the homes to Orangutan that spread in entire Sumatra Island. Thomas Leaf monkeys, Black Gibbons, White…
---